YOUNG PHOTOGRAPHER OF CATALONIA AWARD
New call for the Young Photographer Award (20th edition)
INSPAI, Centre de la Imatge, attached to the Department of Culture, New Technologies, Sports and Education of the Diputació de Girona, announces the twentieth edition of the photography contest Young Photographer Award, which aims to promote and disseminate the photographic works of young people in Catalonia. This commitment to photographic creation is one of the goals of INSPAI, together with, on the one hand, making the public more aware of all the aspects of photography, so that they can enjoy current trends in photographic production, and, on the other hand, offering municipalities cultural opportunities in the form of travelling exhibitions.
The photographic project selected by the Diputació will be provided resources that will allow it to be exhibited, a catalogue published and the exhibition to go on tour. The project will be awarded a prize of 1,250 euros (gross amount, subject to any income tax payable at the time the prize is received).
Rules and regulations of the Young Photographer Award
Twentieth edition of the Young Photographer Award
Brochure on the 20th edition of the Young Photographer Award
Entry form
Model data
Trip to the island of Menorca. Pere de Prada
Mentawai, progress or regress. Marina Calahorra
The end of days. Yurian Quintanas
Guanyadors d'edicions anteriors
NINETEENTH YOUNG PHOTOGRAPHER OF CATALONIA AWARD
The latest winner of the Young Photographer of Catalonia Award is "Valid Identities", by Isaac Flores
"Valid Identities" is an exhibition of Isaac Flores photographic exploration of Barcelona's queer scene. It comprises images taken between 2018 and 2020 that focus on drag art, transformism and sexual dissidence.
According to the author, "Valid Identities" is a condemnation and warning against the intolerance and hatred to which LGTBIQ+people are subjected because of the way they are, the way they love and the way they express themselves.

Virginia Hielo, 2018. Isaac Flores
Fernanda's heels around Café Ocaña, 2019. Isaac Flores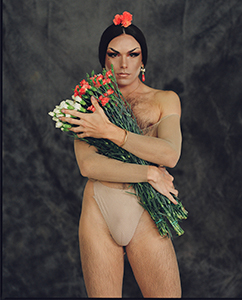 Visit of the Carvento of Córdoba to my studio; Barcelona, 2020. Isaac Flores
Sol·licitar l'exposició